Corruption and Distrust of Judiciary Top Investor Concerns for Third Year
Corruption and lack of trust in the judicial system remain, for the third consecutive year, the principal obstacles deterring foreign investors from putting their money into Ukraine, according to a new annual survey of strategic and portfolio investors conducted by Dragon Capital, the European Business Association (EBA) and Centre for Economic Strategy (CES) in August-September 2018.
Foreign Investor Survey Results 2018: Presentation
Also ranking high on the list of investor concerns was financial instability, which moved up to third place from fifth in 2017, reflecting continued uncertainty about the prospects for cooperation with the International Monetary Fund and significant external debt payments Ukraine will face in the near term.
At the same time, investors were less worried about the military conflict with Russia, reflecting its recent de-escalation and lower coverage by media.
State capture by oligarchs, cumbersome and changing legislation, and repression by law enforcement agencies also features among barriers to investment.
With Ukraine facing presidential and parliamentary elections in 2019, investors were also asked to name potential favorable and unfavorable actions by the next government that would affect their investment decisions.
Among positive steps, investors highlighted the fight against corruption, relaunch of judiciary, and tangible progress in separating politics from business. Potential debt default, crackdown on independent anti-corruption institutions, rejection of democratic values, and political pressure on the NBU were the main detrimental factors.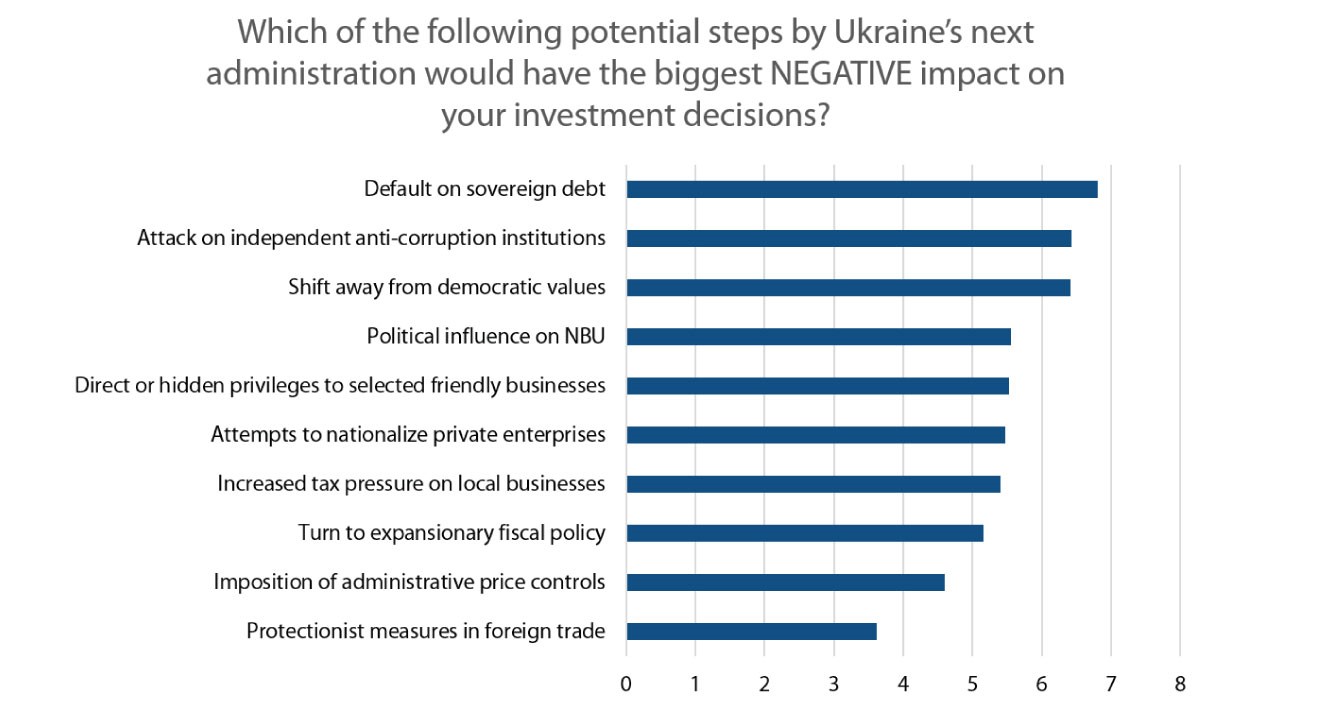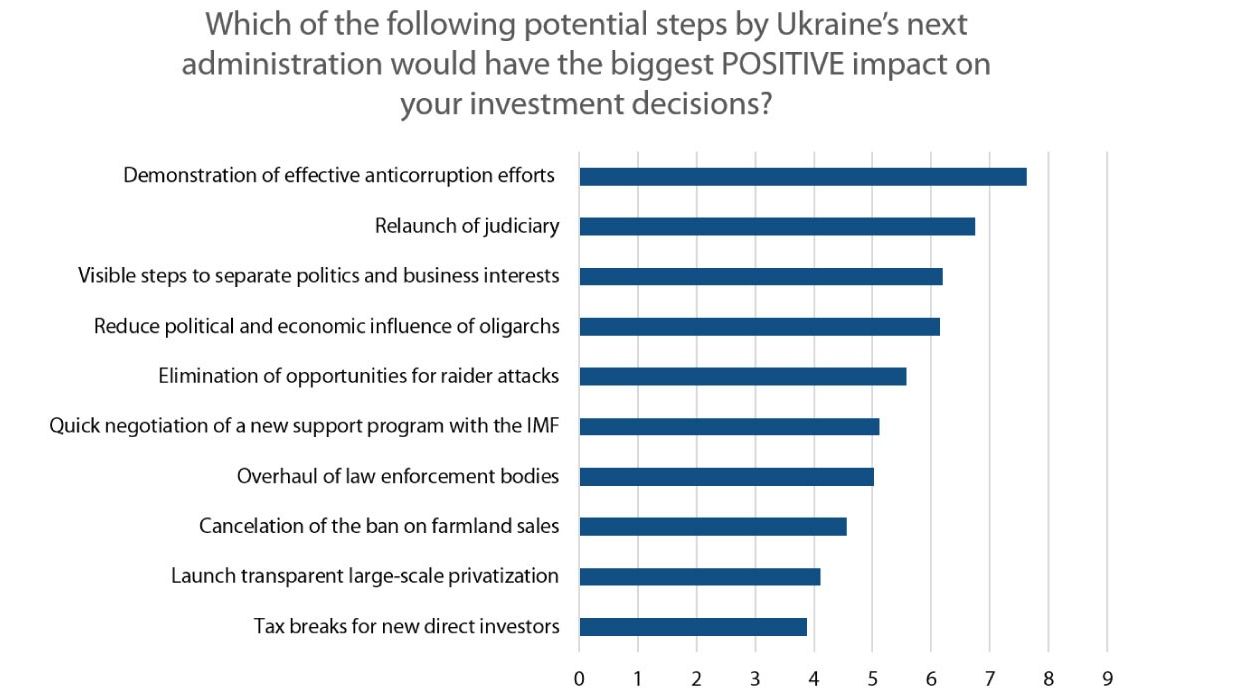 "All successful countries in our region are leaders in attracting foreign direct investment. In order for Ukraine to become attractive to investors, it is necessary to ensure the rule of law and justice and to reduce corruption in law enforcement agencies and courts. In September 2017, the country's leadership, at a meeting with business associations, promised to establish the National Bureau of Financial Investigations. Unfortunately, this has not happened and even our comments to a relevant bill have not been taken into account yet," said Tomas Fiala, CEO of Dragon Capital and President of the European Business Association.
"Effective fight against corruption and reputable judiciary are the beacons signaling that there is business freedom in the country, unrestricted access to various industries, transparency, and security. Another key element is the currency liberalization, which has been initiated and needs to be brought to a competent and conclusive end in order to encourage strategic investors to invest and stop relying on the IMF, whose mission is currently working in Kyiv, as a lender of last resort. We need to target real reforms, and this will help attract investments," said Anna Derev'yanko, Executive Director of the European Business Association.
"Our survey once again demonstrated that rule of law, strong democracy and eradication of corruption are the prerequisites for investment and economic growth in Ukraine," said Hlib Vyshlinsky, Executive Director of Centre for Economic Strategy.
Reference
See results of the surveys conducted in 2016 and 2017.
The survey was conducted by investment bank Dragon Capital and the European Business Association (EBA) with analytical support from Centre for Economic Strategy and technical assistance from GfK Ukraine between September 3-10, 2018. A total of 109 respondents, including portfolio and direct investors and those already invested or planning to invest in Ukraine, participated in the online survey. The vast majority of respondents were well familiar with Ukraine, with 92% saying they either were invested in Ukraine or invested in the past
Dragon Capital is a leading Ukrainian group of companies in the field of investment and financial services, offering a comprehensive range of products in equities and fixed income sales, trading and research, investment banking, private equity and asset management to corporate and private clients.
Centre for Economic Strategy (CES) is an independent economic policy think tank founded in May 2015. Its objective is to support reforms helping to achieve sustainable inclusive economic growth in the country. The Centre contributes to the development of Ukraine's economic growth strategy, conducts independent analyses of the most important aspects of public policy and builds public support for reforms.
The European Business Association (EBA) is one of the largest business communities in Ukraine, founded with the support of the European Commission in 1999. The EBA gives domestic companies the opportunity to contribute to improving the investment climate in Ukraine in favor of business industries, society, and the country as a whole.